Definition
customer experience management (CEM or CXM)
Customer experience management (CEM or CXM) is the collection of processes a company uses to track, oversee and organize every interaction between a customer and the organization throughout the customer lifecycle. The goal of CEM is to optimize interactions from the customer's perspective and, as a result, foster customer loyalty.

Download this free guide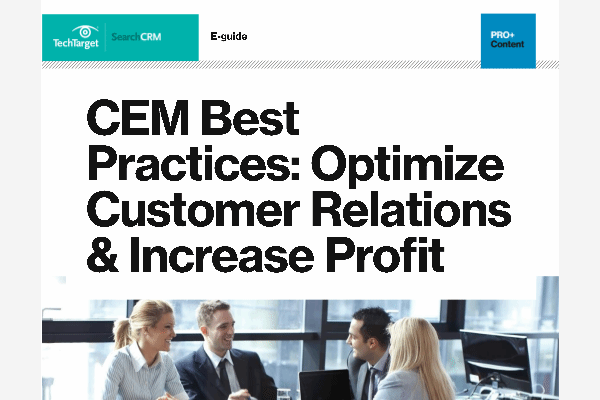 A Special 8-Part Guide on CEM Best Practices
Experts advise how to use new technologies to improve customer relations, increase profits, and keep up with consumers.
By submitting your personal information, you agree that TechTarget and its partners may contact you regarding relevant content, products and special offers.
You also agree that your personal information may be transferred and processed in the United States, and that you have read and agree to the Terms of Use and the Privacy Policy.

Increasingly, customer experiences include not only interactions through traditional channels, such as website purchases, phone calls and live chat, but also social media, text and other burgeoning communication mediums through which customers can engage with companies. To manage the customer experience, companies need to create a strategy that encompasses all customer interactions.
With new communication channels and touch points comes greater complexity: There is a greater amount of data to process from new sources, and this data needs to be integrated with existing customer account data. CEM requires companies have a 360-degree view of customers, with integrated, up-to-date data on their accounts. This database integration has proved difficult for many companies to achieve. The ability to combine customer relationship management (CRM) system data with financials, ERP and inventory management, as well as real-time data on social platforms, can prove challenging.
CRM platforms from vendors, such as Salesforce, Microsoft, SAP and Oracle, attempt to bridge the gaps between channels. These providers are working on integrating sales, marketing and service data as well, so customer information doesn't reside in data silos. This kind of departmental integration enables a salesperson to address a service issue even as he is selling a new product or, conversely, for a customer service rep to sell a customer a warranty or customer service plan in the course of serving a customer.
Deft CEM management requires several tools, from customer journey mapping to customer analytics. Customer journey mapping, for example, helps companies visualize where customers are in the buying journey and market to them appropriately based on their buying stage. CEM can then target the most appropriate marketing and sales strategy based on their buying stage.
The importance of mapping the customer journey
Companies are also enlisting business intelligence and customer data analytics to learn more about how to market and sell to customers in a more personalized, one-to-one fashion. Personalization strategies include new technologies, such as mobile marketing, location-based services and beacons, which help companies identify where customers are and market to them in real time. In some cases, the data can help companies give consumers pointed information that may or may not be related to a discrete purchase. For example, a stadium might use location-based services to inform consumers about which concession stand is proximal and less busy.
Companies also use emerging technologies such as emotional analytics to gauge whether customers benefit from their interactions with companies. Emotional analytics software can help analyze the success of a variety of operations that are related -- but potentially tangential to -- customer service, such as inventory management or supply chain management.
Knowledge management systems are also important tools in an effort to provide seamless customer service. Agents can use these tools to look up product information, customer interaction with previous products and so on. Agents can also combine this information with customer data, inventory information and so forth to provide customers with information on their account, product education and inventory, and more.
Continue Reading About customer experience management (CEM or CXM)
PRO+
Content
Find more PRO+ content and other member only offers, here.