Social CRM is customer relationship management fostered by communication with customers through social networking sites, such as Twitter and Facebook.

Download this free guide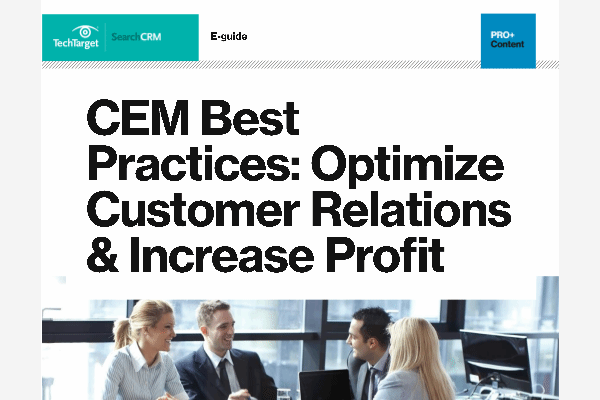 A Special 8-Part Guide on CEM Best Practices
Experts advise how to use new technologies to improve customer relations, increase profits, and keep up with consumers.
By submitting your personal information, you agree that TechTarget and its partners may contact you regarding relevant content, products and special offers.
You also agree that your personal information may be transferred and processed in the United States, and that you have read and agree to the Terms of Use and the Privacy Policy.
Here's how Jacob Morgan, coauthor of "Twittfaced," describes the difference between traditional customer relationship management (CRM) and social CRM:
Social brings a new element into CRM because now instead of just dealing with data and information we are dealing with conversations and relationships. These conversations and relationships take place not just from company to consumer but also from consumer to consumer. Think of Twitter as a simple example. Let's say you are a large brand on twitter such as Southwest Airlines. You are building relationships with your followers but you also have the ability to build relationships with and listen to (and engage) customers that are having conversations about you.
Here are some examples of social CRM in action:
A business -- or even a customer -- creates a fan page for your company or product in Facebook. People who like your brand and the way you conduct business will sign up as fans, creating a venue for communication, marketing and networking.
A business can quickly get information out to users who are interested in the company or its products.
A business can follow conversations about its brand for real-time market data and feedback.
A customer can easily tell a company -- and everyone else -- about their experiences with the company, whether those experiences are good or bad.
A business can respond very quickly to negative feedback, attend to customer problems and maintain, regain or rebuild customer confidence.
A customer can use social networking sites to offer ideas for future products or tweaks to current ones.
See also: relationship markteting, citizen relationship management, social computing
Continue Reading About social CRM
PRO+
Content
Find more PRO+ content and other member only offers, here.