Q
Get started
Bring yourself up to speed with our introductory content.
What is Salesforce Einstein Bot?
Salesforce's no-code bot authoring tool competes with Google, Amazon and Microsoft, but differentiating capabilities make it potentially more useful for the Salesforce user base.
Salesforce combined the brains of its AI platform -- Einstein -- with an intuitive, no-code, bot-building utility to create the flexible and responsive Salesforce Einstein Bot.
What's special about Salesforce Einstein Bot? Many platforms have their own bot builders -- Google Dialogflow, Amazon Lex, Microsoft Bot Framework first come to mind, but the list is endless. Einstein Bot, however, leads the pack for the Salesforce crowd with deep integration.
Einstein Bot can tap into Salesforce data through a configured interface, with no coding required; it can hand off to your support personnel (the actual human ones) in Salesforce Service Cloud, as needed; and you can measure its performance via Service Cloud Analytics.
There's a framework for Salesforce Einstein Bot apps that goes beyond the typical dialoguing functionality to include the usual questions, actions and rules. This framework offers slots, a mechanism for capturing data from a dialogue, which can then be easily passed to another application; entities for typing the captured data; and intent, a prediction system that selects dialogues based on key phrases and words.
The obvious deployment for Einstein Bot is service and support applications, which sits squarely in Salesforce's purview. But it's important to consider that bots can be used as substitutes for apps. It's often easier to place an order by speaking the order to a bot than it is to click through an ordering process online.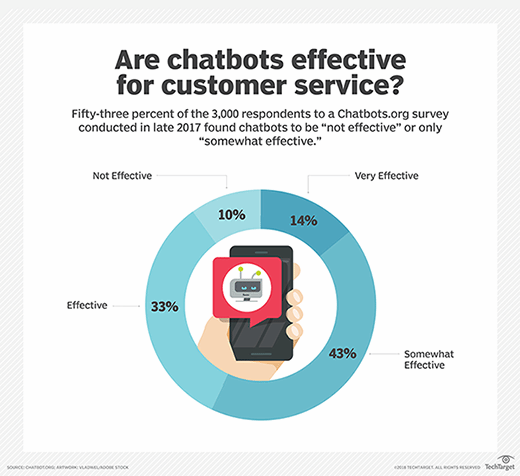 Currently, Salesforce Einstein Bot is available in the Enterprise, Developer, Unlimited and Performance editions in Salesforce Classic and Salesforce Lightning, but the setup features are only in Lightning.
Dig Deeper on Salesforce Artificial Intelligence (AI)
CX teams don't traditionally include the data scientist role, but adding one can help derive more value from customer data than a CX analyst or ... Continue Reading
Content management systems in the healthcare and legal industries use AI to automate tasks, saving businesses the time and money spent on employees ... Continue Reading
Social CRM continues to evolve, using additional social media channels and techniques such as social media mining, advertising and listening. Continue Reading
Have a question for an expert?
Please add a title for your question
Get answers from a TechTarget expert on whatever's puzzling you.